Small Plates & Quality Meats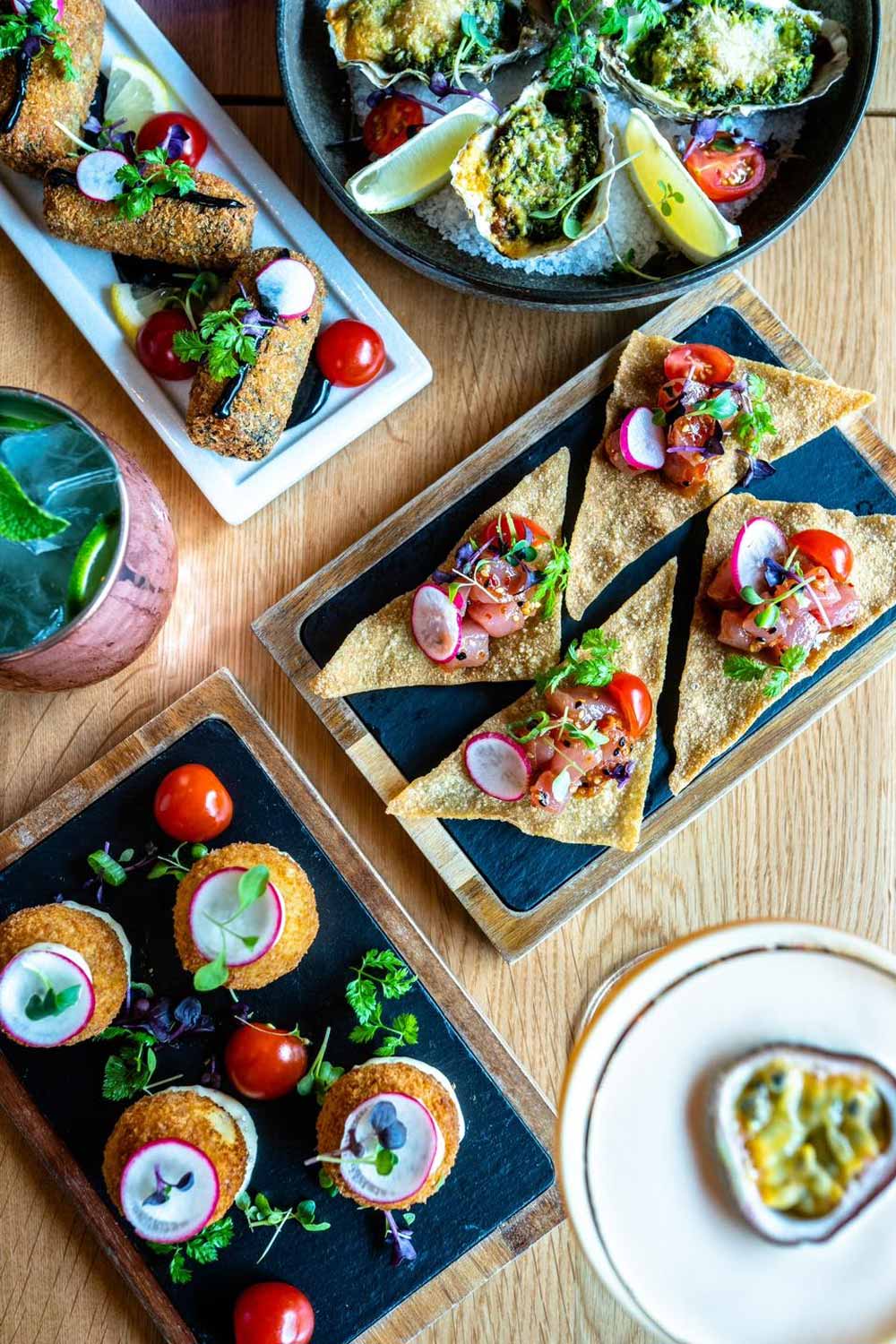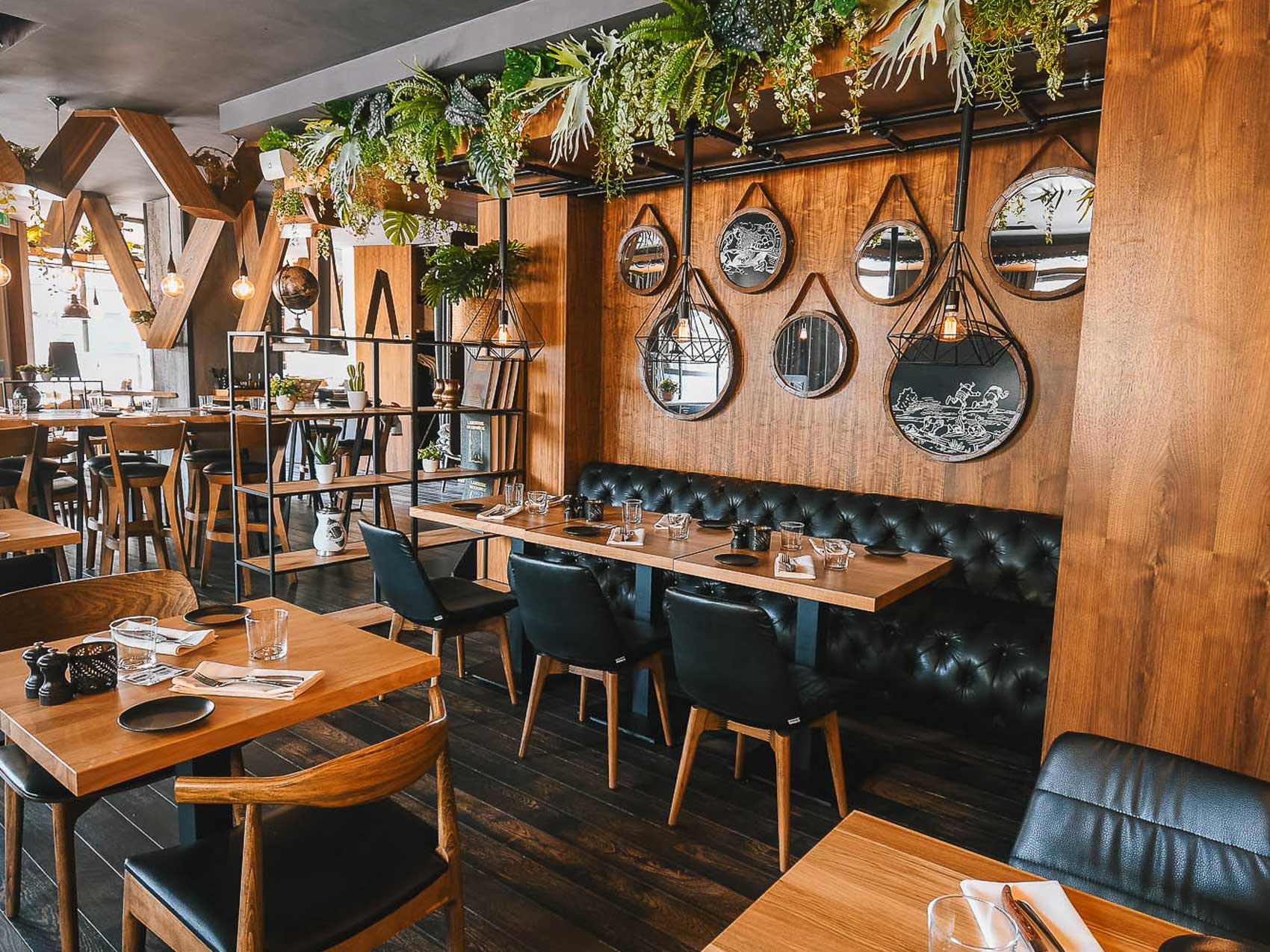 CRISPY SHRIMP ROLL

seasoned, breaded shrimps in our buttery brioche oll, topped with basil mayonnaise and mixed cress.

16,80

MISO EGGPLANT

grilled eggplant glazed in a miso marinade and topped with toasted pine nuts.

11,60

ROCKEFELLER OYSTERS

4 baked fines de claire n°3 oysters with baby spinach, parsley, garlic, parmesan cheese, bread crumbs.

16,40

RAW OYSTERS

4 fines de claire n°3 oysters perfected
with ponzu sauce, rice vinegar, scallions,
ikura and dried chili peppers.

15,80

HARISSA BURRATA

gently roasted baby tomatoes, marinated in our homemade harissa paste and served with burrata cheese.

15,60

TRUFFLE CROQUETTES

filled with truffle mashed potatoes and
placed on truffle mayonnaise.

15,20

TUNA POKE

chunks of raw yellowfin tuna, tossed in a
spicy garlic sesame marinade and placed
on wonton shells.

15,80

SMALL SALMON GROMPEREKICHELCHER

small homemade hash
brown bites with smoked salmon
and sour cream.

16,20

SQUID INK CROQUETTES

bechamel base with squid ink, shrimps
and served with aioli sauce.

15,40

ROASTED BONE MARROW

with bread and onion chutney.

9,20

THE PLATTER FOR TWO

a local selection of cold cuts, tomato/mozzarella, local cheese, pickled vegetables and bread.

30,60

POLENTA CAKES

with homemade guacamole, feta cheese and pomegranate seeds.

11,60

LITTLE BEEF TARTARE

hand-cut beef tartare prepared in truffle mayonnaise.

17

MINI BURGERS

beef patties with lettuce, tomato, cheese, caramelized onions and "thousand island" burger sauce.

15,20

MINI TRUFFLE BURGERS

beef patties with lettuce, tomato, cheese, caramelized onions and truffle mayonnaise.

17

MINI CHICKEN BURGERS

crispy chicken with lettuce, tomato and our spicy blue cheese sauce.

15,20

BEEF WELLINGTON

a Max + Moritz favorite:
tender beef filet mignon, duxelles and bacon
wrapped in buttery pastry served with mashed
potatoes, assorted vegetables and demi-glace sauce.

48

DRUNKEN DUCK

200gr duckling filet with mashed potatoes,
seasonal vegetables and orange cointreau sauce.

29

SUPREME DE PINTADE LABEL ROUGE

with goat cream cheese filling, mashed potatoes, glazed apricots, seasonal vegetables and
demi-glace sauce.

27,40

UP IN SMOKE BURGER

beef patty with lettuce, tomato, cheese,bacon,
caramelized onions, our secret smoky burger sauce. served with hand-cut fries.

27,40

TRUFFLE BURGER

beef patty with lettuce, tomato, cheese,
caramelized onions, truffle mayonnaise.
served with hand-cut fries.

29,40

TRUFFLE BEEF TARTARE

hand-cut beef tartare prepared in truffle mayonnaise, topped with fresh
shaved truffles and served with fries and house salad.

31

BRAISED LAMB SHANK

juicy, tender lamb on the bone with red wine glaze, our mashed potatoes and seasonal vegetables.

31

LE SAUMON

on a guacamole bed with black wild
rice and salicornia.

29

TUNA TATAKI

topped with a mango salsa and served
with black wild rice and salicornia.

36

ASIAN STYLE TAGLIATA

Max + Moritz classic: certified, wet-aged angus sirloin steak marinated in a spicy oyster chili sauce, served with mashed potatoes and seasonal vegetables.

38

VEGGINGTON

our vegetarian twist on the classic beef wellington prepared with beetroot and creamy cauliflower sauce.
served with mashed potatoes and seasonal vegetables.

27,40

COBB SALAD

grilled chicken, crispy bacon, avocado, red onions,
tomatoes, chopped egg, gouda, cheddar, lettuce, ranch dressing.

24

QUINOA + ARUGULA SALAD

red quinoa, red onions, zucchini, toasted pine nuts,
feta cheese, pomegranate seeds and house vinaigrette.

24

THE GREAT TOMAHAWK 1,2KG

Hereford | Ireland | Dry Aged | Grass Fed

(for 2 people, please allow min 30 minutes)

our favorite cut from ireland served with seasonal vegetables, mashed potatoes and au jus sauce.

122

T-BONE 1KG

Angus | Ireland | Wet Aged | Grass Fed

(for 2 people, please allow min 30 minutes)

filet on one side and sirloin on the other paired with seasonal vegetables and mashed potatoes.

89

BEEF FILET MIGNON 200gr

Angus | Argentina | Wet Aged | Grass Fed

our most tender cut served with mashed potatoes and seasonal vegetables.

39

THE ENTRECÔTE 300gr

Angus | Argentina | Wet Aged | Grass Fed

our ribeye: a large, tender cut from the outer side of the rib paired with our hand-cut fries and seasonal vegetables.

38

I-BONE 450gr

Angus | Ireland | Dry Aged | Grass Fed

our irish superhero for the extra hungry: a beautiful sirloin steak on the bone, dry-aged for a minimum of 6-8 weeks, served with hand-cut fries and seasonal vegetables.

48

GRANDMA'S CLASSIC MASHED POTATOES

6

TRUFFLE MASHED POTATOES

10,20

SEASONAL SAUTÉED VEGETABLES

6

APPLE CRUMBLE

with vanilla ice cream.

11,60

CHOCOLATE LAVA CAKE

with salted caramel ice cream.

13,60

BAILEYS CRÈME BRÛLÉE

11,60

CAFÉ DU CHEF

non-alcoholic hot beverage of your choice served with a selection of 4 small desserts by our chef.

15,80
Nestled in the heart of the bustling city, the Bar at Max + Moritz is a hidden oasis of sophistication—a welcoming and relaxing upscale drinkery.

Its warm, inviting glow bathes plush seating in an opulent embrace, with a black marble bar that gleams in the soft light.

The menu, a curation of classic and innovative libations, tantalizes the palate, while the evening conversations and cozy ambiance envelop you in a sense of belonging. We also serve food in the Bar.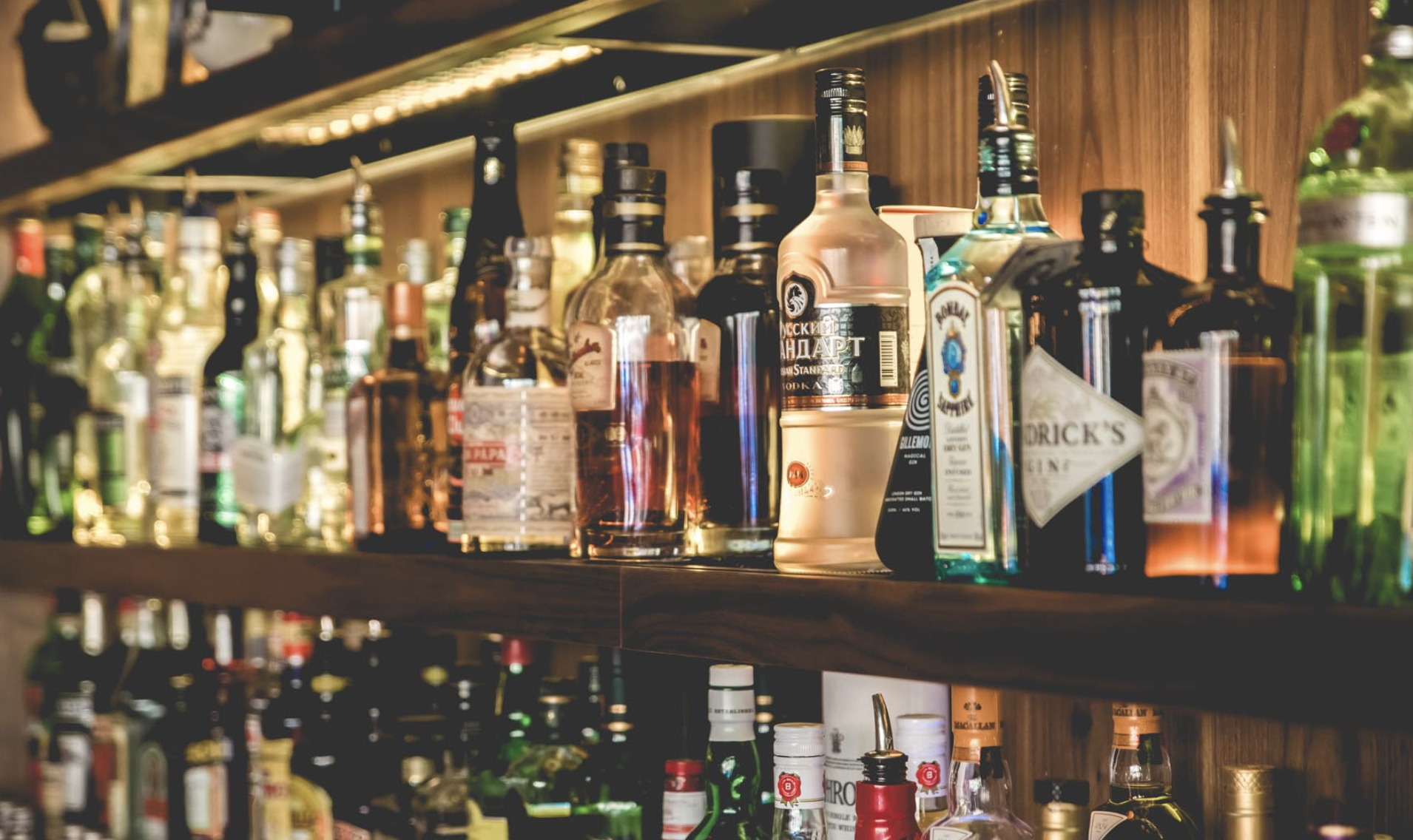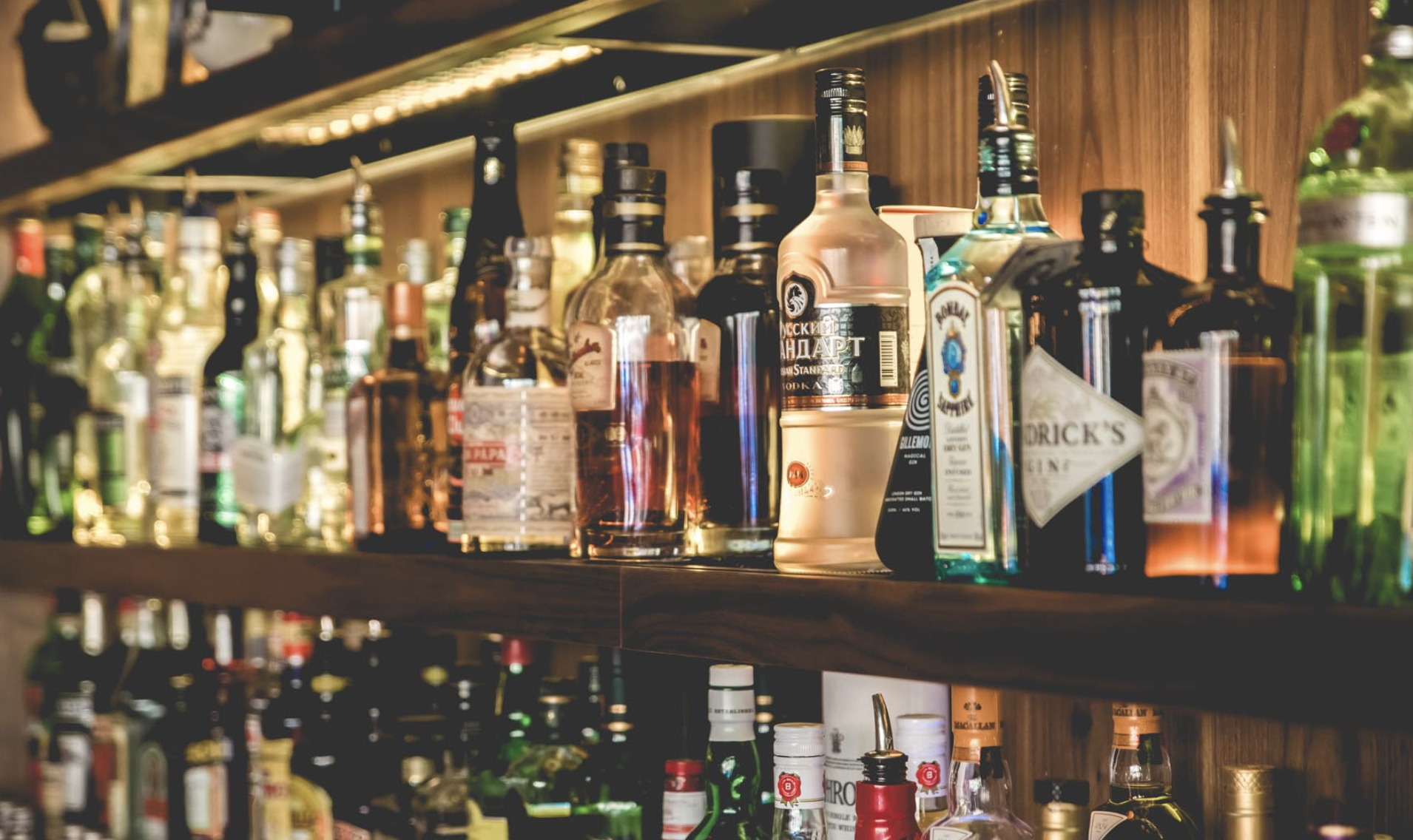 Business hours
Monday - Friday 12pm - 2.30pm
Monday - Wednesday 5.30pm - 11pm
Thursday - Friday 5.30pm - 12am
Saturday 7pm - 12am
Kitchen Hours
Monday - Friday 12pm - 2pm
Monday - Saturday 7pm - 10pm
2-4, Avenue du X Septembre
L-2550 Luxembourg-Belair
Phone: + 352 2 637 99 10
info@maxmoritz.lu